10 Spring Cleaning Tips for Your Home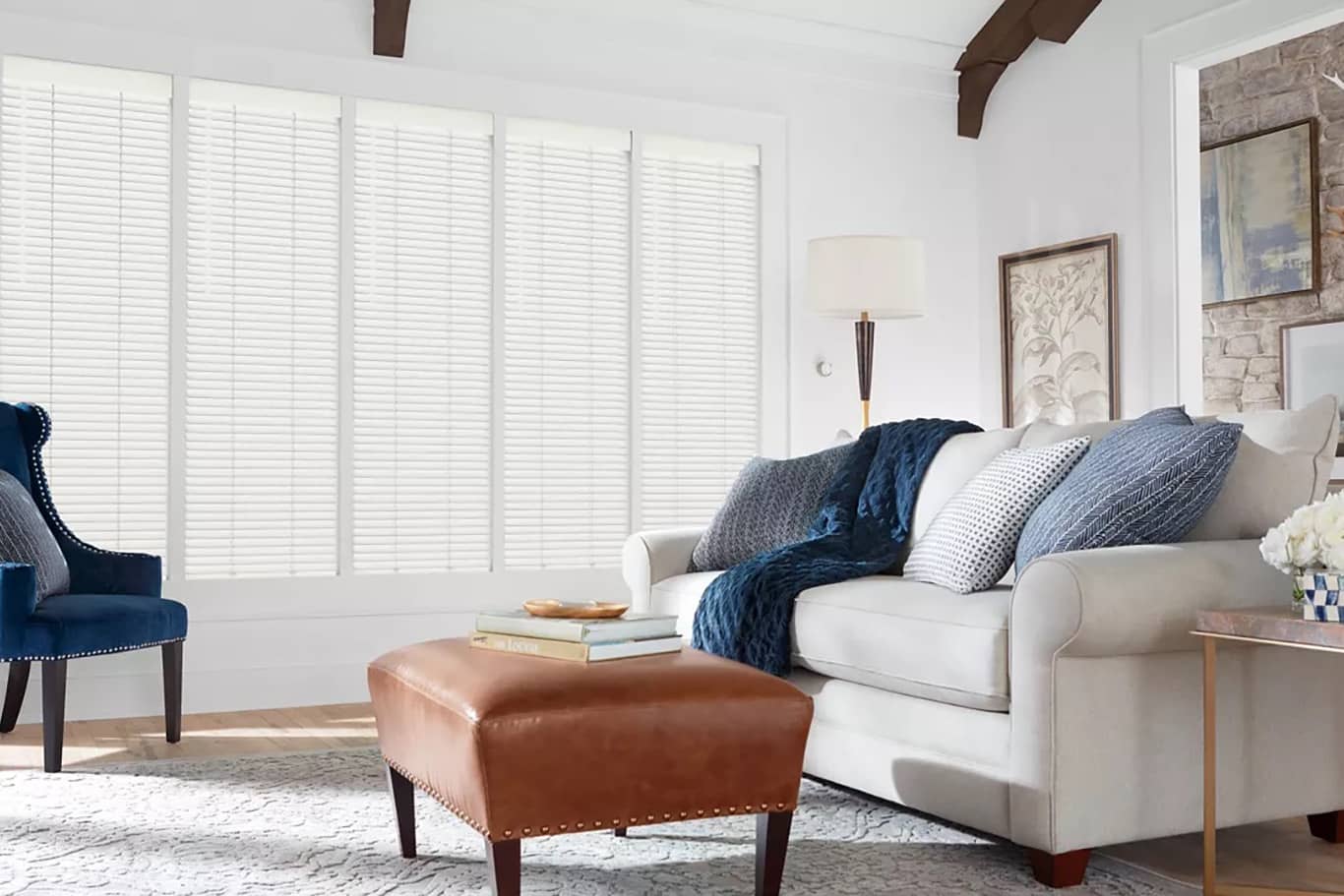 Spring cleaning means something different for everyone! For you, it could be going through your closet and donating clothes you rarely wear or decluttering your pantry. For others, it may be refreshing your home design with fresh paint or new window treatments.
Check out our tips for a quick and easy spring clean!
Tip #1 – Make a Plan
Make the most of the time you've dedicated to spring cleaning by making a plan before you begin! Whether it's two hours or two days, write down everything you want to accomplish and the supplies you'll need.
If you have helpers, give each of them a sticky note with their respective to-do lists! Divide and conquer is the best strategy for lengthy spring cleaning checklists.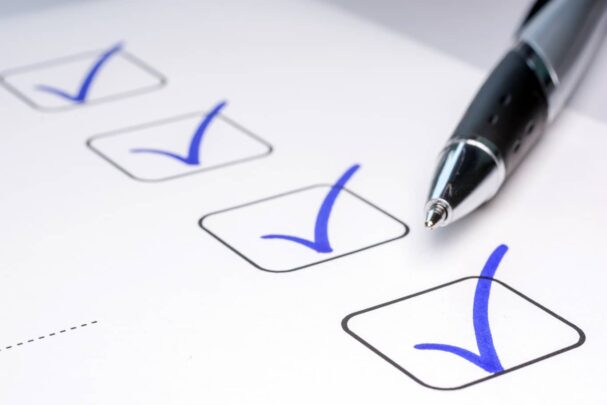 Tip #2 – Be Realistic
Realistically, you likely won't be able to get through every item on your list, so you'll need to prioritize.
Here are a few questions to help:
What are the top 5 tasks I want to accomplish?
Can I move some of the smaller tasks to my weekly routine?
What tasks can I delegate?
Which tasks can wait?
Tip #3 – Get Prepared
Before you tackle your spring cleaning checklist, gather any supplies you'll need.
Here are our top supply recommendations:
Trash bags
Paper towels and cleaning rags
Dusters
Multi-purpose cleaning agent
Blind cleaner
Masks and gloves for deep cleaning
Cardboard boxes
Vacuum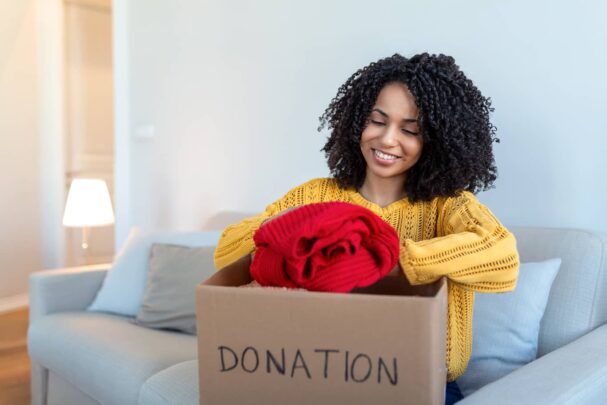 Tip #4 – Donate and Recycle
Instead of throwing out last season's wardrobe or your old dishware, donate it! Contact your local donation and recycling center if you're unsure what you can and cannot donate.
Tip #5 – Organizing Vs. Decluttering
Does your space need to be organized or just decluttered? Baskets, clear containers, and labels are helpful ways to organize a space! Consider whether you should relocate, donate, or recycle items when decluttering.
Tip #6 – Forgotten Spaces
Spring cleaning is the perfect time to clean up forgotten spaces. A few common culprits are:
Under beds and furniture
Beneath appliances
Closets
Microwave
Showerheads
Fans
Windows
Don't forget the famous junk drawer! Giving these spaces some attention will provide you with peace of mind throughout the rest of the year.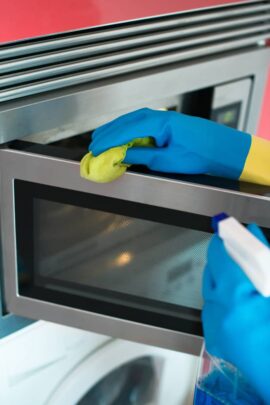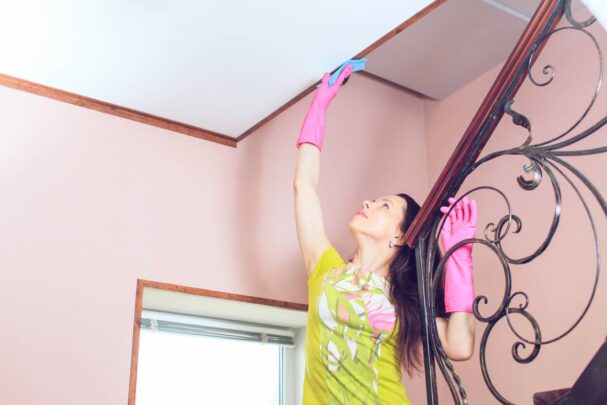 Tip #7 – Hard-to-Reach Places
Hard-to-reach places usually mean one thing: dust. Come prepared with a good feather duster and a ladder, and don't forget to follow ladder safety guidelines.
Pro Tip: Most vacuums have attachments, including extenders, to reach touch spots and clean items like blinds and drapery. Vacuums can be one of the best ways to clean blinds without damaging them.
Tip #8 – Know When to Call a Professional
Some projects you've saved for your spring cleaning checklist may need a professional. Consider if the project is safe for you to complete and how long it will take. Depending on your time, resources, and expertise, it may be wise to seek a professional.
Tip #9 – Design Refresh
If you want to revamp your home's design, there's no need to go out and buy all-new decor. New window treatments and fresh paint are often the only things you need for your design to feel new.
Paint
Reuse old furniture and decor by polishing or painting it a new shade! Paint is relatively inexpensive and protects your furniture for years to come.
Window Treatments
New window treatments are like a breath of fresh air in a room! We love the classic style and energy efficiency of shutters. We enjoy window blinds for their sleek design and natural materials. We appreciate the versatility of shades and how there is a style for every design!
Talk with your local Louver Shop Design Consultant if your design could use a new look this spring.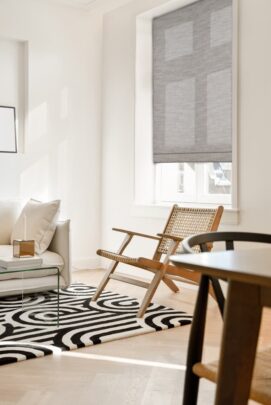 Tip #10 – Have Fun
Spring cleaning may seem tedious, but it doesn't need to be boring! Make a game of it and see who can complete their tasks first. Take plenty of breaks to rest and eat! If you're listening to music, turn it into a dance party. The point is to have fun so spring cleaning doesn't feel like a chore!
Interior Design Tips with Louver Shop
Whether it's spring cleaning tips, interior design ideas, or custom window treatments, Louver Shop is here for all your home design needs. Book a free in-home consultation with your local Louver Shop Design Consultant today!