Room Darkening Window Treatments
Control The Light
Blackout window treatments are shutters, blinds, or shades designed to restrict light from entering a room. Blinds and shades are typically made of a thick, heavy fabric lined with an opaque material. This combination of materials helps to prevent light from passing through the fabric, creating a dark and peaceful environment in the room. Shutters are made of wood or polymer that naturally provide a light-blocking function.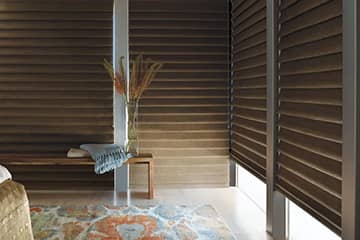 Common Types of Blackout Window Treatments
Shutters, blinds, and shades work differently to block out light, but they all share the same goal of creating a dark and comfortable space.
Best Applications for Blackout Window Treatments
Blackout window treatments are most commonly used in rooms where complete darkness is desired, such as bedrooms and home theaters. They are also often used in nurseries, to help create a dark and peaceful environment for infants to sleep in during the day.
Blackout & Room-Darkening Window Treatments Gallery