The amount of light in a space makes just as much a statement as the window treatments themselves. But what if these windows are wide, tall or otherwise difficult to access? You may be worried about the effort needed to clean or adjust your shades.
At Louver Shop, functionality and style aren't mutually exclusive. Many of our custom shades can be motorized. These shades combine stunning design with precise and convenient control. As an added bonus, you can control your shades from your phone or link them with a compatible smart home system.
If you're thinking about updating your home's window treatments, here are a few reasons why adding motorization is a must!
Why Motorized Shades Are Worth It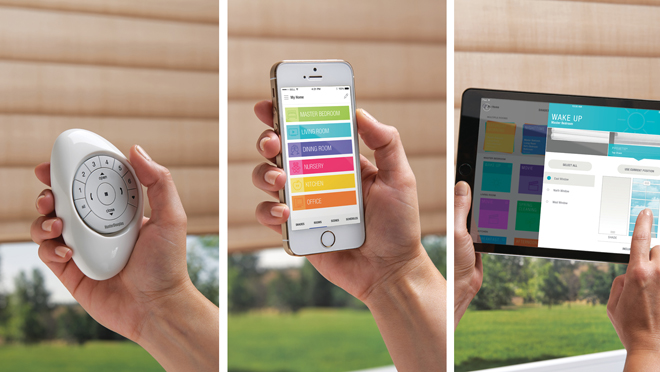 Motorized shades are a great option for any home, but they are more expensive than shades with traditional operating systems. Although their benefits more than pay for themselves through ease, convenience and up-to-date technology.
When weighing the benefits of motorized shades, consider the following:
1. Convenience
It can be tedious and time consuming to adjust your shades. A need for privacy or diffused sunlight demands fast access. With PowerView®, you'll enjoy easy day-to-day control. You can adjust your blinds with the touch of a button or via your smartphone.
Pairing motorized control with our sheer shades is a great way to maximize the control you have over sunlight.
2. Smart Home Integration
Our motorized shades are compatible with a wide variety of smart home systems, including Amazon Alexa, Siri® on your Apple device or Google Assistant. You can also manage them via the PowerView App whether you're at home or away.
Schedules can be independently programmed for different rooms and windows. For example, you can program your bedroom shades to lower as the sun goes down. Operate them through remote control or voice activation with a compatible system. Whether you're home or away, privacy and convenience are at your fingertips.
Smart shades are a great option for our energy-efficient honeycomb shades. Custom schedules will help regulate your home's indoor temperature. When you're at work or on vacation, you can adjust all your windows remotely. This could result in lower monthly energy costs!
3. Fashionable and Functional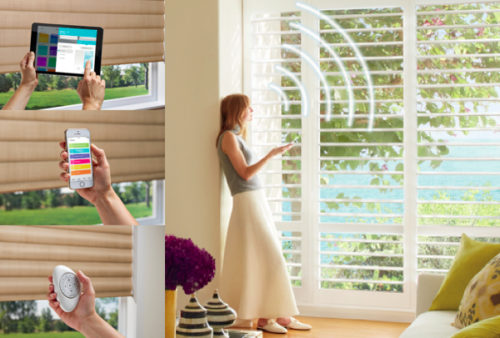 Window treatments with manual controls may not offer the clean lines or elegance you're looking for. Motorized shades provide useful functionality without sacrificing quality design. What's more, they can make adjusting the aesthetic of a space easy and convenient. Go from open and breezy to dark and cozy in just a few moments.
Motorized control is a fantastic addition for roller and solar shades. Their modern design complements many different styles of decor. With many fabrics to choose from, you'll be able to customize your level of privacy and natural light.
Start Designing Your Motorized Shades with Louver Shop Today
Between styles, colors and materials, Louver Shop is dedicated to providing you with near limitless possibilities for your window treatments so your home can look just how you want it to. And when you're ready for installation, motorized shades offer more control and convenience than ever before.
Get started by requesting your free consultation today! You'll be paired with a local design expert who will go over samples and estimates at no extra charge or obligation. Give us a call at 888-249-5655 to request your appointment today!