As your cooling bills rise in response to warm weather, you might be wondering how you can control your home's energy costs. Updating your window treatments is one way you can help keep your family more comfortable during the summer.
Window treatments don't just make your home look good. They can also help stop energy loss year-round at your windows. About 76% of sunlight that hits double-pane windows in the summer turns into heat, according to the U.S. Department of Energy. In the winter, the DOE says your windows can leak about 30% of your heating.
The right window treatment can help keep more of your cooling (and heating) where it belongs—in your home. Since there's a lot of choices out there, working with a local window treatment professional from Louver Shop is a great place to start.
Our professionals live in your community, so they understand the climate and type of weather you're up against. That gives them the unique advantage of helping you find the right solution for your home during a free consultation.
In the meantime, here are our recommendations for the best window treatments for blocking heat.
Plantation Shutters
Plantation shutters are an excellent way to block summertime heat and could even help lower your energy bill. For the best energy efficiency, we recommend our LouverWood® plantation shutters.
These exclusive faux wood plantation shutters are made from a solid polymer. This maintenance-free material insulates up to three times better than wood. And it can withstand high heat and humidity without warping, cracking or peeling.
We make it easy to customize your LouverWood shutters. You choose the color, louver size and frame style during your free consultation. Then we'll take it from there with custom manufacturing and professional installation.
We produce all our plantation shutters here in the USA, so you'll receive them much more quickly. And we guarantee they'll remain beautiful for years.
Honeycomb Shades
Our honeycomb shades are among the most energy-efficient window treatments, especially for large windows. These shades have insulating pockets that trap air to reduce heat from your windows. As a result, you may find your home stays more comfortable even with a higher thermostat setting.
These cellular shades are available in single-, double- and triple-cell construction. The more cells you choose, the higher the energy efficiency you'll receive.
Duette® honeycomb shades are the most energy-efficient honeycomb shades you can find. They're made with six layers of fabric and five insulating air pockets. And with the LightLock™ system, you can absorb or deflect nearly all incoming hot sunlight.
When you work with Louver Shop, you'll have access to the widest selection of fabric colors and patterns for your new shades. Ask us for more information about customizing your shades with PowerView® automation. This smart home technology allows you to move or schedule your window treatments with an app on your web-enabled device.
Horizontal Blinds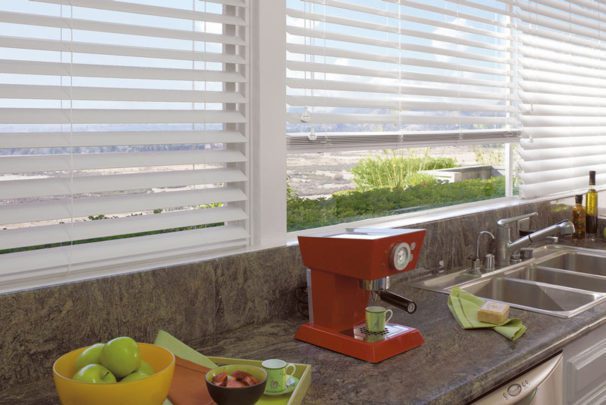 Horizontal blinds are a budget-friendly way to block summertime heat. One of our most popular styles, EverWood® horizontal blinds, gives you the look of plantation shutters at an affordable price.
These faux wood blinds are made from polymer, an energy-efficient material that withstands strong sunlight, high temperatures and high humidity. Polymer also resists warping, fading and yellowing better than all-wood blinds.
EverWood blinds are available in many realistic wood finishes, from white to dark brown TruGrain®. They can also be customized with de-Light™ to block more daylight and PowerView to make using them easier than ever.
Find the Best Window Treatments for Your Home with Louver Shop
At Louver Shop, we want to make the experience of designing new window treatments a fun—and even enjoyable—one. Your local consultant will be with you every step of the way, from free consultation to professional installation. Ready to get started? Contact us at 888-249-5655 today to request your consultation now!