When you hear the term "plantation shutters," you might picture the shutters your grandparents had in their home. You may be picturing a narrow frame with miniature louvers, knobs and a clasp to keep the panels shut.
Known as traditional shutters, this window treatment is the most historically accurate type of shutters. They're made just like they used to be many years ago. And they're a great match if you own a historic home.
But what about real plantation shutters? Are these wide-louvered, often white shutters still in style today? Or are they outdated?
At Louver Shop, our American-made plantation shutters remain a top seller today. They're also desired by home-buyers because of their durability, light-filtering capabilities and energy efficiency. In some instances, they may even boost your home's resale value.
So, we can confidently say, plantation shutters are still in style. And they'll remain in style for years to come.
Here are a few ideas of how you can make this timeless window treatment work with your home.
Keeping Your Plantation Shutters in Style By Customization
At Louver Shop, we make customizing your plantation shutters a simple process. We start with a free consultation, where you'll be paired with a local expert designer. You'll review shutter samples and receive professional measurements, all for free.
One of the first steps in choosing the right plantation shutter is settling on a plantation shutter material.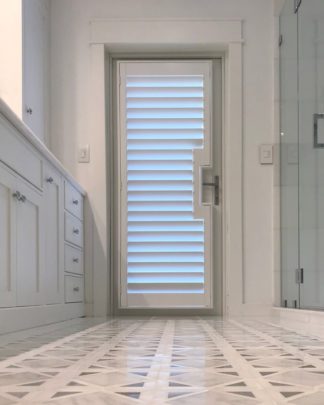 Choosing a Material
Wood is a premium shutter material. It's the lightest, strongest and most traditional for plantation shutters. We manufacture our Louver Shop wood shutters from furniture-grade wood, which is the finest wood available. Because of their lightness and strength, wood shutters are great for covering large windows. But they aren't the best option for rooms with high temperatures or extreme humidity.
Faux wood, also known as polymer, is an economical shutter material. This material is also the most energy efficient, as it insulates up to three times better than wood. We make our Louver Shop faux wood shutters from solid cellular PVC. This material looks very similar to wood. And it can stand up to heat, humidity and moisture without peeling or cracking.
A combination of the two materials gives you the strength of wood frames and the energy savings of faux wood louvers.
Choosing Louver Width
Our plantation shutters can be customized with three different louver widths, 2½", 3½" or 4½". The narrowest width is great for traditional homes, such as colonial, while a wider width complements modern farmhouse and other contemporary home styles. The wider width also provides a greater view, as well as more light and air.
Plantation shutters are controlled by a tilt rod. This rod is attached to louvers in the center of each panel. For an ultramodern look, our PerfectView™ Louver Control System hides the tilt bar from view.
Choosing Color
Traditionally plantation shutters are stained or painted white. White is a classic plantation shutter color that makes your home feel lighter, airier and more spacious. But many of our plantation shutter styles are available in custom colors. Make yours a statement piece in your home by choosing a fashionable finish, like gray, black or red.
Whatever color or stain you choose, you can rest easy knowing your Louver Shop shutters have a water-based, low VOC finish. Foreign-made shutters may release large amounts of VOCs, or volatile organic compounds. These chemical fumes can cause headaches and respiratory symptoms.
Design The Style of Your Custom Plantation Shutters with Louver Shop
There's a reason we're the top choice for plantation shutters. Between our professional expertise, free consultation and up-front pricing, we make designing custom shutters a simple, and even fun, process. Ready to begin designing your shutters? Give us a call at 888-249-5655 or contact us online today to schedule your free consultation.