The spring 2021 One Room Challenge™ (sponsored by Better Homes & Gardens) is well underway, with designers making significant progress on their rooms. Louver Shop recently completed the shutter installation for Susan Hill, the CEO and principal designer of Susan Hill Interior Design, with the help of Craig Amick with Louver Shop of Charlotte.
"What I really wanted was to be able to have privacy, to have really beautiful window coverings. But I didn't want them to take away from the main accent, which is the TV wall," Susan explained.
A Custom Fit, Every Time
Louver Shop works with every customer for the perfect fit for their needs and to bring their vision to life. And Susan's room was no exception. One of the major design principles for her room was clean, horizontal lines. These were especially key in the room's main accent, the TV wall. Susan wanted to carry this element into her window treatments, making plantation shutters with a 3 ½" louver—one of the many options available—a perfect fit.
In order to achieve that clean look, she used shutters without a divider bar and took advantage of the PerfectView Louver Control System, which hides the tilt bar from view. We took that a step further and made Susan shutters that came without a hinge, instead mounting them on magnets and clips.
"This makes it really easy for me to get them off if I want to open the bottom window sash," Susan said. "If we had used a hinge color, there would've been some other element introduced in the room, and I'm really trying to keep the room simple and clean."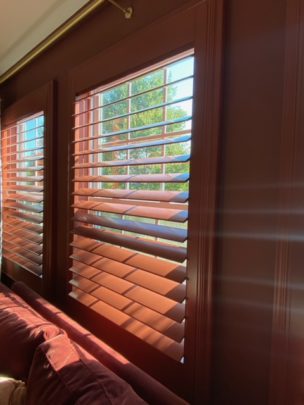 The Right Color, The Right Design
As a part of Susan's design, she wanted the shutters to blend seamlessly with the room colors. So Louver Shop custom-matched them with Susan's Rudrakahsa Beads wall color. Craig recommended using wood plantation shutters as wood is one of the best options for really bringing dark, bold stain colors to life.
Follow Along with the One Room Challenge
The One Room Challenge will continue through the end of June. Be sure to follow along with the 20 design influencers who have been selected to take the challenge as featured designers. They share their latest updates every Wednesday, documenting their process and providing advice.
You can watch the full video following Susan's shutter installation with Craig on her Instagram, and you can find regular updates from Susan's project on our Instagram.
You can also follow along with Susan's progress directly here:
Check for weekly blogs on the Susan Hill Interior Design website
Keep up with daily progress on Susan's Instagram
Check out Susan's inspiration on Pinterest
Add Custom Shutters to Your Design
"To put it in a nutshell, everything we make is 100% custom," Craig explained. "Susan came to us. She wanted a custom color. She wanted no hinges. She wanted no tilt rod. She wanted a very clean look, and we could do all that for her to get the look she was exactly going for in this room."
We work with every customer to find exactly what they're looking for in their space. If you're feeling inspired to bring your own designs to life, Louver Shop can help. We've been making homes beautiful since 1972. Call us at 888-249-5655 to schedule your free consultation today!