A window treatment is any cover or addition made to the windows in a building. Window treatments can help improve the interior aesthetics of a space and manage the amount of light that enters a room. They can also provide the homeowner with a sense of safety and security at night, since they conceal interior spaces from the outside world.
Window treatments may be hard, using materials such as wood or vinyl to create blinds, shutters, or shades. They can be soft, featuring products such as sheers, curtains, drapes, swags, valances, or roman shades. Or, they can be layered, utilizing a combination of both hard and soft treatment options.
Because new window treatments can significantly alter the appearance of a building's interior, it's important to consider an overall interior design update to maximize the aesthetics of a space. The following breakdown looks at some of the best interior design ideas to consider pairing with a new window treatment.
1. Upgrade to New Windows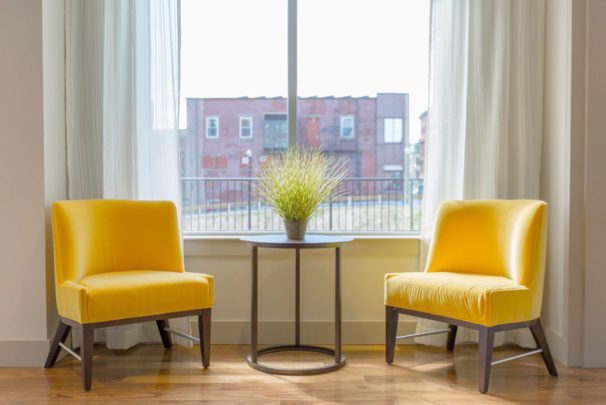 The first place to start with a window treatment is to consider a window upgrade itself. New and trendy treatments will look a bit tacky if the glass in the window is cracked, stained, or clouded, or if old-fashioned wood frames are showing signs of age.
New vinyl windows can be a significant upgrade to rotting wood window frames. They also make for a particularly stylish complement to hard window treatments, such as new vinyl shades. In addition to these aesthetic benefits, new vinyl frames also hold up well in the face of UV exposure and are incredibly easy to maintain.
2. Replace the Entrance Door
Door and window renovations often occur simultaneously, making a new entrance door a strong interior project to consider with a fresh window treatment. While there is really no end to the kind of window treatments and door styles that will make attractive pairings, some creative ideas include:
Steel, wood, or fiberglass doors to go with hard window treatment options
Soft window treatments to pair with traditional entrance doors that feature a large percentage of glass, giving the home's interior a more delicate ambiance
Layered window treatments to match the craftsman style doors that feature both hard elements as well as a glass detail in the upper third of the door
While the aesthetic benefits of matching the front door to new window treatments are important, a new entrance door can be a value-adding project in and of itself, with statistics revealing that 91% of entrance door replacement costs are recouped through increased property value.
3. Apply Wallpaper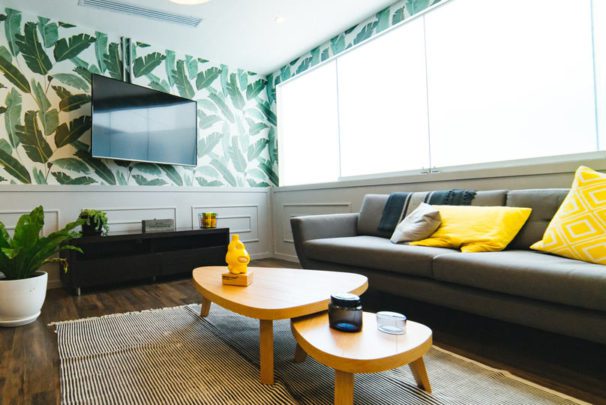 Wallpaper is a popular interior design option in 2021 as homeowners stuck inside during the COVID-19 pandemic continue to seek new ways to tackle DIY renovation projects.
Although applying wallpaper is one of the most expeditious means of significantly altering a home's interior, making it a commonsense project to tackle simultaneous to a window treatment, hanging wallpaper over paneling, glass, tile, or any other nonporous sealed surface can present a bit of a challenge. Therefore, it is necessary to go through the proper priming procedures to ensure that the wallpaper fits flush against the walls throughout its lifespan.
4. Install New Flooring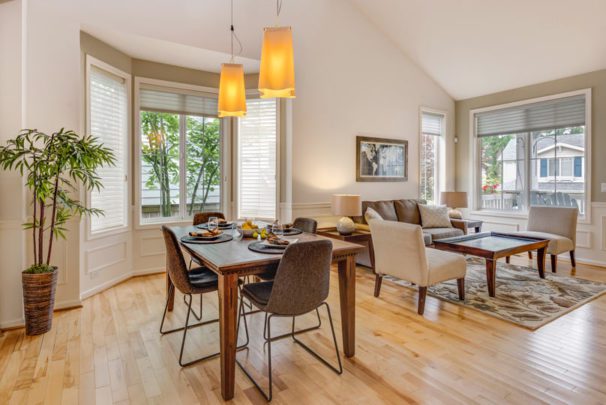 Installing new flooring is one of the most popular interior design ideas, in general, and it makes for a strong choice to pair with new window treatments. New flooring will improve the aesthetics of a home's interior regardless of which type of window treatments are selected, but one creative idea is to look into faux wood flooring options that can be fabricated into a wide array of finishes to find the perfect look to go with new window coverings. Whether choosing laminate, wood-look tile, luxury vinyl tile, or engineered hardwood, these natural wood alternatives can be less labor-intensive and more cost-effective, offering a wider range of solutions to match the window treatments of any interior design theme.
5. Give the Cabinets a Facelift
One final interior design project to consider with new window treatments is to upgrade the kitchen cabinets. Cabinets take up a significant portion of the kitchen walls and can really be an eyesore if they are not up to par with stunning new window treatments. For those homes incorporating modern, dynamic blinds or shades, cabinets made from bamboo veneer can provide a contemporary, clean feel in place of traditional wood cabinets. While bamboo plywood can be painted, it is often stained and left in its natural state–a look that provides versatility for a wide range of interior design schemes.
The Best Interior Design Ideas to Pair with New Window Treatments
New window treatments, or window coverings, are a great way to quickly improve the interior ambiance of a building while helping control the amount of light that enters a space. While window treatments are a worthwhile project in and of themselves, their benefits can often be maximized by tackling a complementary interior design project simultaneously. Upgrading the windows, replacing the entrance door, applying wallpaper, installing new flooring, and updating the cabinets are all strong interior projects to consider with window treatments.
Natalie Akins is the Interior Design Editor at Innovative Building Materials. With over 20 years of interior design experience, Natalie has worked on many projects including commercial office design and residential spaces.