Modern Black Shutters Vs. Traditional White Shutters
Modern and traditional design styles often compete as the most popular design styles. Even as other styles trend, modern and traditional interiors remain staples in interior design.
Modern interior design embraces minimalism, clean lines, and neutral colors, focusing on functionality and simplicity. Traditional interior design, on the other hand, incorporates ornate details, rich colors, and elaborate furnishings, reflecting historical styles and craftsmanship.
Plantation shutters are our specialty here at Louver Shop. It's our mission to provide our customers with the right style and functionality for their homes, and no matter your style, shutters typically tick all the boxes. When you love shutters like we do, choosing between traditional and modern shutters is hard. Both offer incredible benefits, so we'll leave the choice up to you!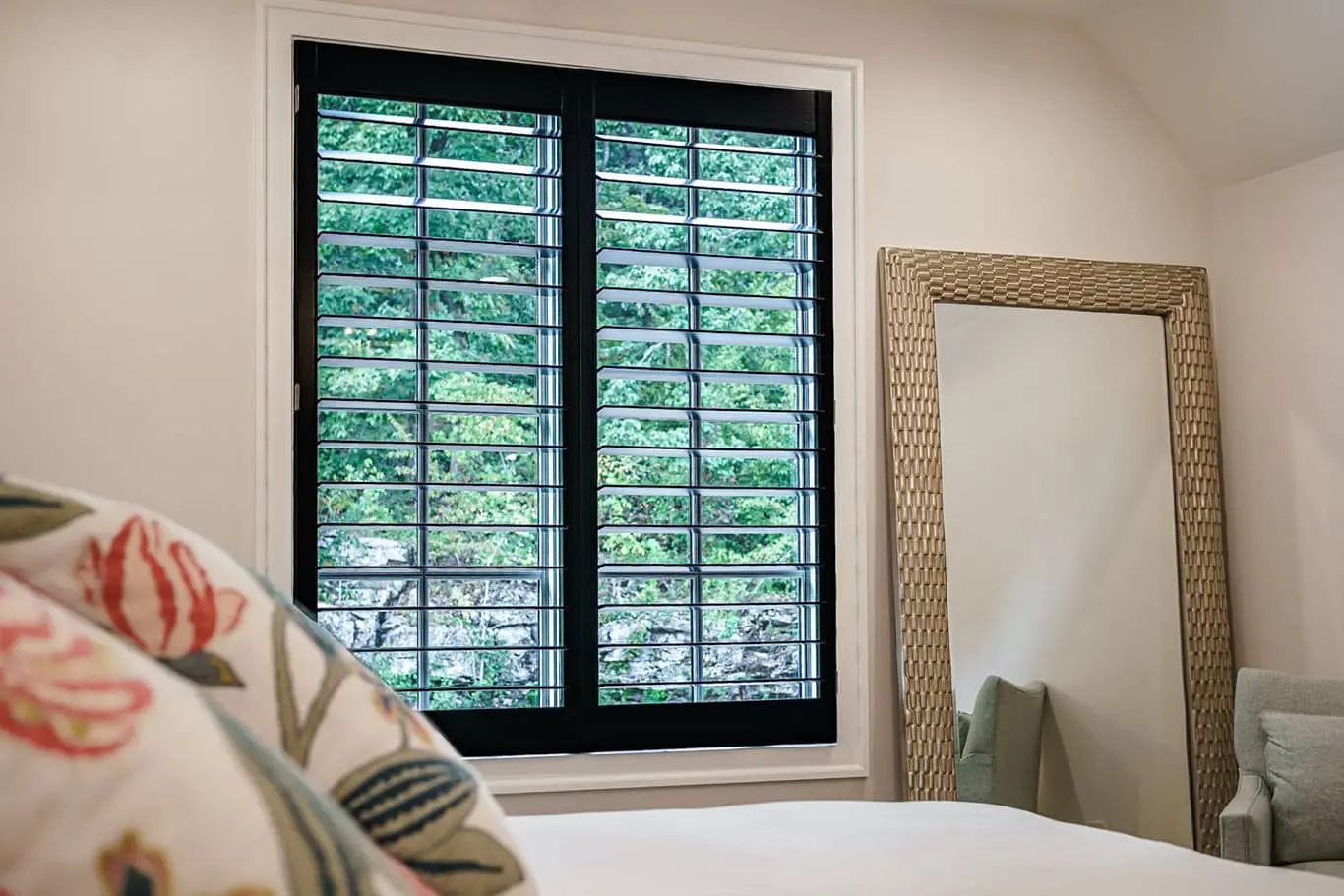 Embrace Modern Black Shutters
Black shutters are trending in many modern homes. They offer the look and feel of traditional shutters but with a focus on bold colors and dramatic style. Black modern shutters are designed to go with most modern styles like Industrial, Minimalist, Maximalist, and even Farmhouse, with the new and trending feel they give to a classic style.
While you can't discount the long history that shutters have played in interior design, shutters in black and deeper tones bring the traditional shutter style into the 21st century. When choosing between modern and traditional shutters, consider which is best for your home's interior design style, functional needs, and overall aesthetic.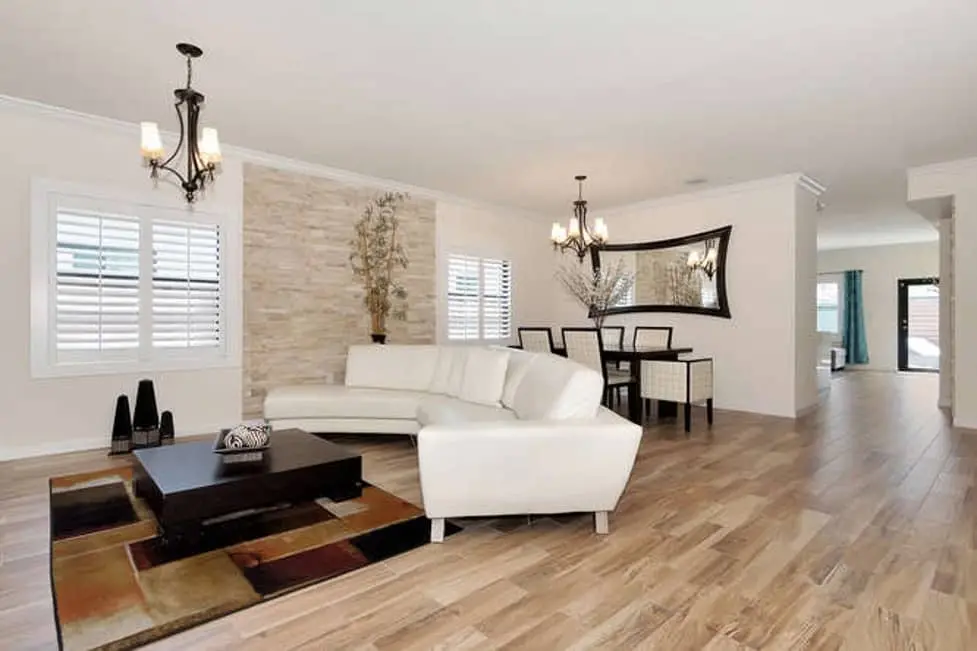 Enjoy Traditional White Shutters
You may love the sleekness of modern black shutters, but it's hard to compete with the tradition and beauty of white shutters. White shutters have been a popular choice for window coverings for centuries, even as far back as ancient Greece, where they were used to protect homes from the sun and provide privacy.
Traditional white shutters were incredibly common in Colonial America, handcrafted with American hardwood and designed to fit each individual window. Not only were they meant to add style to one's home, but, most importantly, they were used to protect homes from the elements.
Today, traditional white shutters remain a popular window treatment due to their classic style and functional benefits. They offer easy light and privacy control, insulation against outside noise, and energy efficiency. While traditional shutters offer clean lines similar to modern shutters, their style is less focused on bold color and more on their clean lines and functionality.
Louver Shop's Plantation Shutters
At Louver Shop, we love nothing more than sharing our unique shutter offerings. We offer various plantation shutter options, including wood shutters, faux wood shutters, and hybrid shutters. Here are a few of our favorites: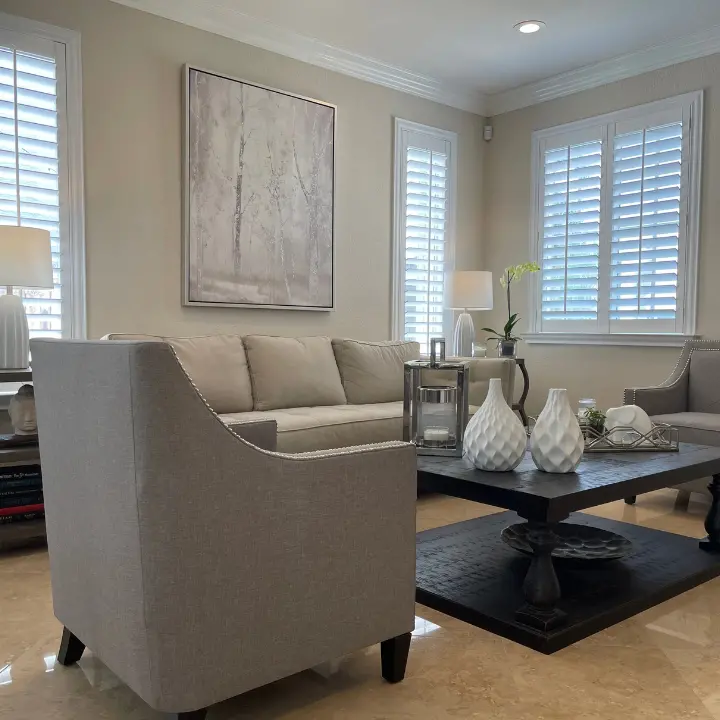 LouverWood™ Plantation Shutters
LouverWood™ shutters beautifully marry the modern and traditional styles into one multifunctional window covering. They offer the look of traditional shutters with the performance of modern materials like cellular PVC instead of wood. This innovative material provides energy efficiency and insulates your home in every season.
We often recommend LouverWood™ for high-traffic rooms that experience heat, humidity, and wear because these shutters are built for durability. We guarantee they will withstand heat and moisture without cracking, peeling, chipping, expanding, etc.
Heritage Plantation Shutters
Our Heritage shutters are beloved for their use of natural hardwood material. We use only the best American hardwoods to craft our shutters. Our hardwood shutters are furniture-grade and are treated with our exclusive, extra-tough Diamond Coat finish designed to seal moisture out and extend their life.
Heritage Plantation Shutters are made for those who love traditional and modern styles. While the wood material suits most traditional designs, it can easily be modernized with our durable, water-based, and nontoxic paints and stains.
All of Louver Shop's interior shutters are handcrafted in the United States and custom-made for every window.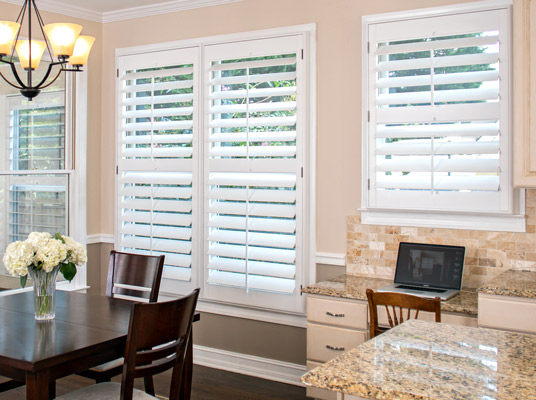 Custom Shutters for Your Home
So, which style do you love more: modern black shutters or traditional white shutters? Let us help you decide which shutter style is right for your home when you book an in-home consultation with your local Louver Shop Design Consultant.
Contact us to learn more about our modern and traditional shutters today!