Today, I want to help you explore the ins and outs of this type of window treatment to help you make the right choice for lasting comfort, ease, and of course, home value. I'll be sharing the same questions and considerations that I discuss with clients when designing their home alongside their architect and builder. By the end, you'll be prepared and confident when you have this conversation for yourself!
But first, what are plantation shutters?
What Are Plantation Shutters?
Plantation shutters are a built-in feature of the home, installed to fit directly within the frame of your windows. One or more columns (called "panels") of horizontal slats (called "louvers") sit within the frame and can be tilted up and down to let in more or less natural light.
I personally love that you can tilt them at an angle that keeps the glare away while still letting in a fresh breeze from the open window. Or, you can physically open the shutters, like a swinging door, to let the entire outdoors in.
Funnily enough, though the name plantation shutters would suggest origins from the deep south, it's believed that the first-ever plantation shutters originated in ancient Greece and were primarily made of marble! They were used to create privacy and shield interiors from rain, dust and debris.
Although no longer made from marble — at least not on this side of the Atlantic — it's incredible that plantation shutters still uphold these useful, beautiful functions in modern-day homes.
What Are the Benefits of Plantation Shutters?
Before we dive into the nitty-gritty details, let's break down all the reasons to fall in love with plantation shutters…
Offers versatility in design to fit seamlessly with the home's existing architecture
Provides a beautiful, custom built-in feature on the interior of your home
Delivers beautiful and inviting curb appeal from the exterior
Offers an ideal choice for excellent light control and added privacy
Durable and cordless, making them a safe and practical solution for a household with kids
Energy-efficient, keeping your home cooler in the summer and warmer in the winter
Easier to clean and maintain than dust-collecting fabric window treatments
Best of all? Each of these incredible benefits will not only support your daily lifestyle with function and flow but will increase the value of your home. After all, it's a fixed feature that you won't take with you if or when you ever list it. But how do you know if plantation shutters are suitable for your new home in particular?
If you're working with an architect, builder and interior designer, they will be able to point you in the best direction. But until then, here's an overview that will help..
Traditional vs. Modern Homes: Choosing the Right Plantation Shutters
Although traditional and modern homes sit on opposite ends of the style spectrum, I've seen plantation shutters work well with both. The secret is to find a style of plantation shutter that feels equally as modern or traditional as the home. Since the plantation shutters will become part of the home's architectural character, it's important that they match.
Fortunately, custom-made plantation shutters do come in endless design options, from a variety of louver sizes to finishes, colors to custom detailing. So, which specifications are right for your custom home specifically?
Plantation Shutter Styles for Traditional Custom Homes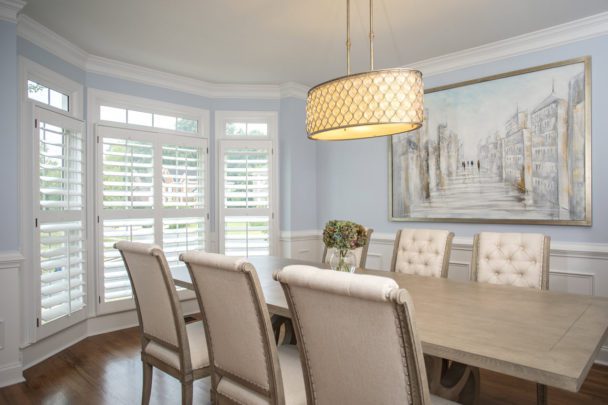 In traditional homes, conventional shutter configurations have double panels fabricated to cover the entire window from top to bottom. The most popular louver sizes are 2 ½" – 3 ½". These are thinner than you'll see with more modern styles, which means that more louvers are required to fill up the same amount of vertical space. More traditional styles will also have a centrally located tilt rod.
As for the finish, shutters constructed of wood or polymer offer the option to be painted to blend into the room or, better yet, stand out and make an eye-catching statement. Either choice is appropriate in a traditional home and can be used for stunning effect.
Plantation Shutter Styles for Modern or Transitional Custom Homes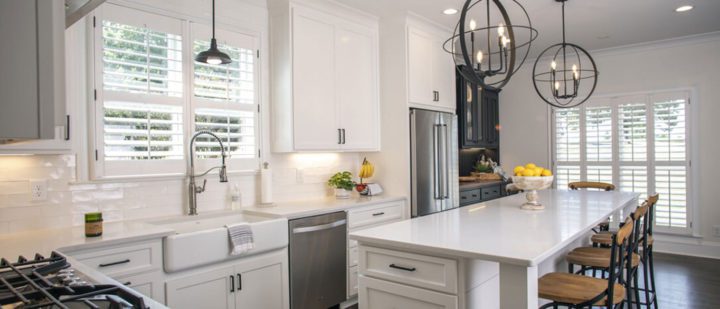 For transitional or modern-style homes, less is more! A single panel with wider 4 ½" louvers (you can see that there are less of them than the traditional version) and a hidden tilt rod will give the room a clean, contemporary feel. Again, the shutters can be customized using various materials, paints or stains for the perfect aesthetic to match your home and your personal style.
The Best Plantation Shutter Choices by Room
Following the trend with the adaptability of plantation shutters, they work well in any room, though the type of room in question will determine the right material choice. Again, your architect, builder and interior designer will help guide you in making the right choice, but here is my advice:
Polymer Shutters
These can be used in rooms with more moisture and heat, like the bathroom or laundry area, and can be painted if choosing a lighter color. An added bonus? Polymer shutters are the most energy-efficient, with 30% more insulation than a wooden option.
Wood Shutters
Wood shutters bring versatility to the window with their limitless painting options. If you want to paint your shutters a darker color, the wood surface is best for paint adhesion. Or, they can be stained to match other wood elements in the home. You also have the option to create more decorative elements, like a contoured tilt bar and beveled louvers, which can further elevate the style of the shutter and your home overall.
Hybrid Shutters
Hybrid shutters are a slimmer product, good for smaller windows with little depth between the window and the wall. They have the strength of wood and the energy efficiency of polymer. Plus, they can be painted, opening up a world of possibilities.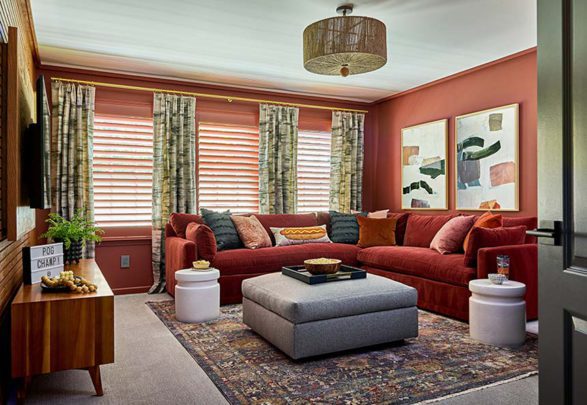 The Verdict: To Shutter or Not to Shutter?
As a designer, I always recommend plantation shutters as an option for clients building new homes. They are stunning, functional and increase home value, making them a real win all around. However, the one downside is that some light will show through plantation shutters, even when closed. If you are designing a room that you want to stay dark, like a home theater or video game room, consider adding drapery or blackout curtains, like I did in my own home, pictured above!
What's Next?
If you are thinking about adding plantation shutters to your room, plan ahead! Shutters take time to fabricate and finish since they are made specifically for your windows. Speak to an expert on your new build team or reach out to a specialty supplier (like Louver Shop) to get all your questions answered.
Here's to your happiest home!
Susan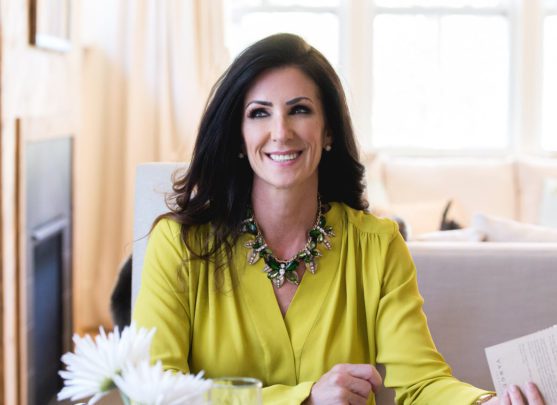 Compare Shutter Styles with Our Visualizer Tool
A great way to visualize shutters in your home is to try HomeView by Louver Shop. You can choose from a collection of sample photos or upload one of your own to add shutters onto window and door openings. Explore customization options like color, louver size and other details to see what new plantation shutters can add to your home.