Want to update your window treatments but not sure where to dive in? We've compared the difference between two of our most popular styles—custom plantation shutters and horizontal blinds.
Both have your home covered for privacy and light control. But they have several distinguishing features.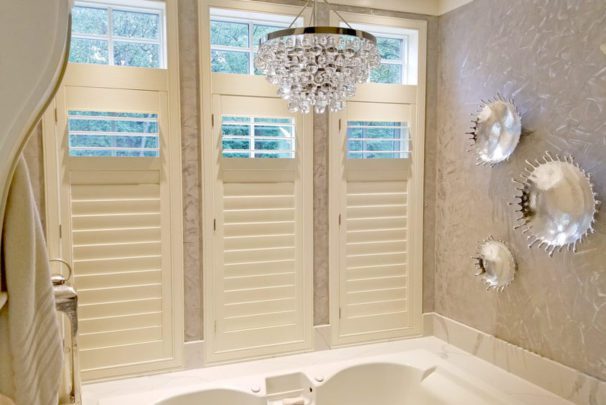 Plantation Shutters
Plantation shutters have wide louvers. This classic window treatment mounts on your window frame. They're often seen in white, off-white or natural stain colors. Or created in the color of your selection.
While the louvers are managed by a visible or hidden tilt rod, the shutters can also open away from windows similar to a door.
They can be either:
Wood plantation shutters
Faux wood plantation shutters
Vinyl plantation shutters
Browse Now: Louver Shop Plantation Shutters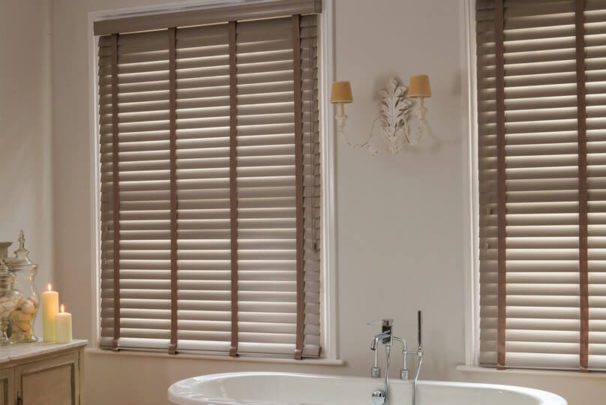 Blinds
Blinds have narrow slats built from metal, wood, fabric or similar materials. This cost-effective window treatment comes in a variety of colors and textures.
Window blinds are frequently operated by a pull cord, although some models are cordless.
They're created in styles like vertical blinds or horizontal blinds.
Wood horizontal blinds or faux wood horizontal blinds are sometimes referred to as plantation blinds because of their wide slats.
Browse Now: Louver Shop Horizontal Blinds
Find the Right Option for Your House
We can help you decide on the right fit for your home during a free, in-home consultation. Check out product samples, get your windows measured and receive our everything's-included Louver Shop Complete Comfort Pricing quote at no cost. Or obligation.
Benefits of Louver Shop Plantation Shutters
Plantation shutters may look the same from manufacturer to manufacturer, but they're not created the same. At Louver Shop, we're proud to produce our window shutters here in the United States.
That means you'll receive your shutters faster—often in three weeks or less. And you'll get a beautiful window treatment that will last for years.
Learn more about the numerous benefits of our shutters.
1. Premier Style Customized for Your Home
Our premier plantation shutters are highly customizable.
You can choose:
Louver width
Materials like high-quality American hardwood or polymer, which is a good match for high-moisture areas like kitchens, bathrooms or laundry rooms
Colors or natural stains*
Design preferences, such as frame style, to match any style of house
2. Better Energy Efficiency
Our shutters can help decrease electricity bills. Save even more with LouverWood®, a contemporary synthetic that insulates three times better than wood.
3. Guaranteed to Last
We back our shutters with one of the best warranties in the trade.
We guarantee they won't:
Warp
Bend
Crack
Peel
Discolor
4. Safe for Your Family
Plantation shutters have no cords, so you don't have to worry if your household has small children or pets.
At Louver Shop, we use nontoxic, water-based finishes that are safe for your family and the environment.
Foreign-made shutters are frequently coated with paints high in volatile organic compounds, which can cause headaches and dizziness.
5. Painless Maintenance
Shutters are practically effortless to clean with a duster or rag. Ours don't require a lot of maintenance, because they'll never require tightening or adjustment.
6. Higher Home Value
We created our quality shutters to last for years to come. As a custom, permanent window treatment, they can also increase your home's value.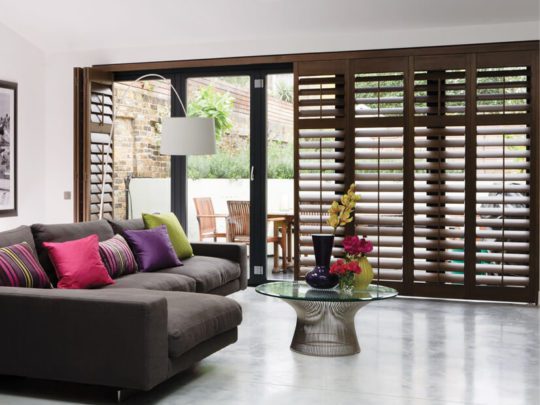 How do Shutters Match Up to Blinds?
Interior shutters are an investment in your home and offer a number of benefits.
While window blinds are usually less pricey, you'll need to replace them more frequently. They also don't afford as much energy efficiency.
Ask for a Free Consultation Today
Begin by requesting a free consultation today! We'll partner you with a design consultant .
Your expert will help you pick expertly crafted shutters right in the comfort of your living room. And provide you with measurements and a Louver Shop Complete Comfort Pricing quote—all at no cost or obligation.
*Available colors may vary by product. Please ask your Louver Shop design consultant for more information.