**This article is a guest post by Susan Hill, the principal of Susan Hill Design Group, and appears here and on her website. Enjoy!**
"This is why we can't have nice things…" Have you ever caught yourself saying these words before? It's a common phrase tossed around among homeowners, and if you're a parent, perhaps you've muttered the words yourself as you discovered another Picasso-inspired Sharpie masterpiece on your living room wall.
Some families believe that in order to embrace the messiness of life and all its moving parts, the aesthetic of their home has to suffer. Today, I'm going to dispel this myth once and for all!
As the principal at Susan Hill Design Group, I can tell you with full objectivity and decades of experience: you really can have nice things. In fact, the right nice things will both look great and endure curious toddlers, sporty teens, shedding pets, and a messy spouse all at the same time. Here's what I suggest…
1. Quartz for Countertops
Quartz is a very durable, man-made surface that is a perfect choice for countertops in a hardworking kitchen. What does quartz have going for it?
Unlike granite, quartz never needs to be sealed and is relatively maintenance-free.
Its heavy-duty strength rivals concrete and won't chip or crack.
Quartz looks luxurious and keeps its sheen for many, many years.
It looks like natural stone, with veining, swirls, and patterns similar to marble or granite, and an array of colors ranging from browns, blacks, blues, reds, and creams.
Your kiddos' spilled lemonade (or your spilled red wine…) is no problem. Simply wipe it away with soapy water, and there's no etching or staining like you'd encounter with marble.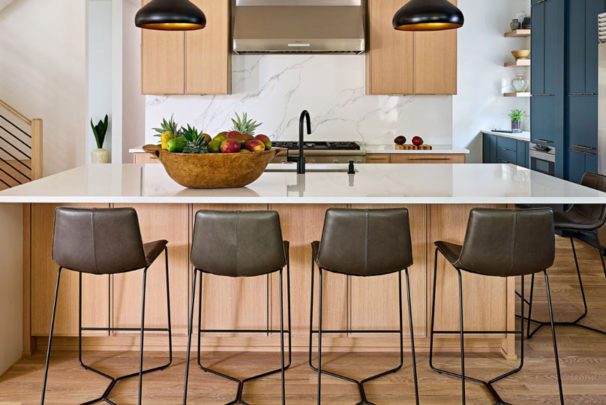 Above: When this family of five approached us about designing their modern-style, new build in Charlotte, we knew that multiuse, family-friendly spaces and durable materials were a top priority. Quartz was the ideal choice for their kitchen. The space is light, airy, and perfect for meal prep, homework help, family living, and easy cleanup. Style isn't compromised at all, am I right?
Pro Tip: When selecting your slab, be sure to stick with quartz that is manufactured in America or Europe for the best quality material.
2. Performance Fabrics for Upholstery
Back in the day, performance fabrics were usually reserved for outdoor use only. Now, we use performance fabrics in so many ways and in rooms you'd never think of. The same qualities that make it great outside — durability, stain resistance, fade resistance, and water resistance — are really practical to use indoors too!
Which items can be made in performance fabrics?
Sofas
Chairs
Bar stools
Rugs
Window treatments
Even pillows!
Where do we love to incorporate performance fabrics?
In high-traffic areas, such as a dining area, entryway, mudroom, or living area
On furnishings where kids and pets gather
In any spaces with prolonged sun exposure (to avoid fading)
The cherry on top? Today, there are many different types of fibers being used to make new, innovative fabrics that are eco-friendly. Recycled water bottles are being infused into fabrics and PET fibers are woven into rugs that feel sooo luxurious and soft to the hand but clean up in a snap. I'll bet you would never know it if you were standing on a PET rug!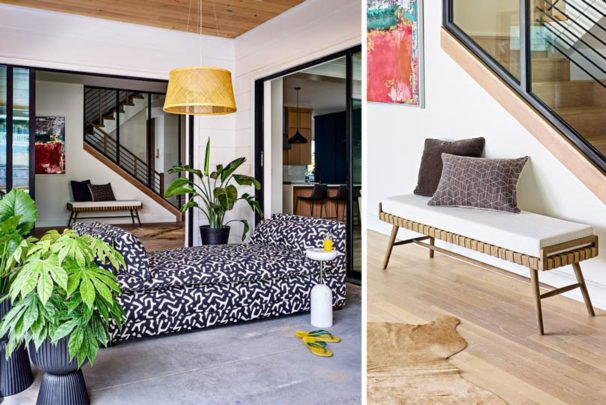 Above: Performance fabric was our top pick when designing this family-friendly home. On the left, we dressed up this sunny spot with fade-resistant fabric that will keep the cushions looking their best. Right, a bench topped with a durable, stain resistant cushion and throw pillows created an inviting spot to tie shoes or organize a backpack to prep for the day.
3. Washable Paint for Walls
In my opinion, washable paint is a no-brainer! A home filled with activity will quickly impact your walls: sticky fingerprints, scuffs from dropped shoes and bags, splattered food in the kitchen, a rainy-day game of chase through the halls, and a wet, full-body shake from Fido all leave their marks behind. And who has time for constant re-touching?
Tough, washable paint will come clean with a soapy scrub and significantly extend the life and beauty of your painted walls. So, which should you pick?
Eggshell, satin, and semi-gloss are great, wipeable surfaces.
If a matte finish is your cup of tea, there are more options becoming available as well. Ask your designer or paint professional about your options.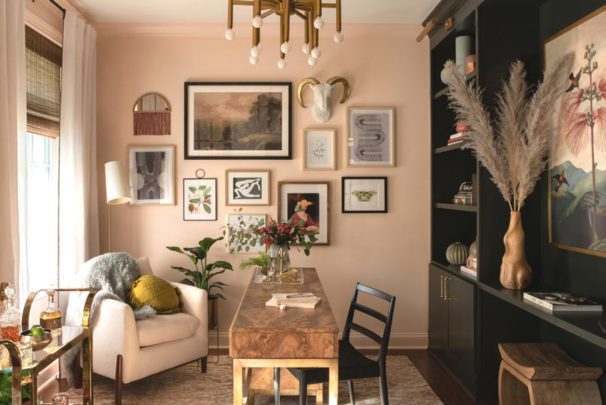 Above: You might be surprised to learn that this soothing office space is tucked away in a bustling household. For the built-ins, I chose this charcoal-tone satin paint with a peachy neutral on the wall. It feels soft and sophisticated, but you better believe that it's scrubbable…just in case.
4. Cordless Coverings for Windows
I love classic drapery, but for families with small children, I typically gravitate toward cordless window treatments that won't pose a risk for toddlers who like to explore their surroundings. What do I prefer instead?
All these options provide privacy, light control, and are easier to clean than fabric curtains. And, you can make quick and easy adjustments to keep them out of the way of little hands. They also come in a variety of color, construction, and finishing options so that sacrificing style is never a concern!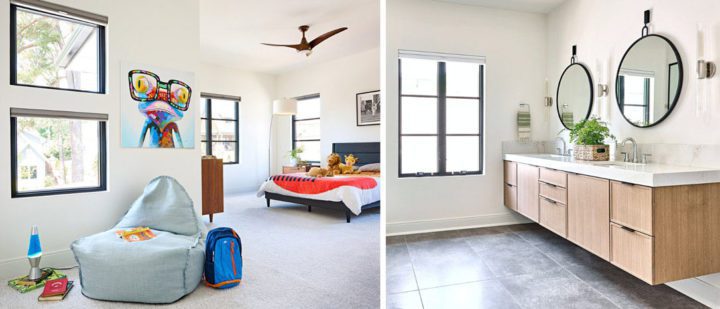 Above: In this modern, family-friendly home, we helped design the black-framed windows to bring the outdoors in. As a child's space, we chose "barely there" roller shades for privacy, easy cleaning, and a minimal look that matches the architecture of the home.
5. Site-Finished Hardwoods & Tile for Flooring
I'll let you in on a little secret: site-finished hardwood floors, in any species of wood, are really easy to maintain. Site-finished means that the wood is shipped to your home raw, from the mill, installed in your home, and then sanded and finished to your exact specifications.
If this sounds new, guess again. This is the way hardwood floors have been installed for hundreds and hundreds of years! Here's why I love it:
Site-finished floors are forgiving and easy to maintain
They look and feel smoother than pre-finished floors
They can be refinished over and over again, giving you the freedom to customize them in a variety of ways.
On the other hand, tile is your "BFF" (best flooring friend) when it comes to any wet space, like mudrooms, laundry rooms, and bathrooms. Tile cleans up easily, resists stains, and is hard and durable. Just be sure to select a non-slip, non-skid option by checking the "wet coefficient" — this will keep it safe for everyone, regardless of age!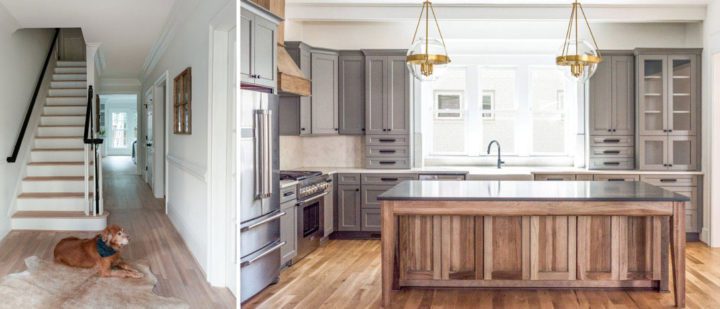 Above: When pets are an important part of the family, hardwood floors are the best choice for durability, ease of use, customization, and maintenance. Site-finished floors are actually really forgiving, making them a great choice in a new build. Final Tip: Lean on the Experts
Now you believe it, right? You can have sophistication and a space that rolls with life's punches! When planning your new home, renovation, or refresh, think about the stage you are in now and how your needs might evolve over time. Then, reach out to the experts for help! Who should you call?
If you're building or renovating, an interior designer is your best resource for designing a home — top to bottom — with materials that look good, function for your family, and are built last. If you aren't looking for a full solution, just pieces here and there, consult the experts in their respective fields: window treatment pros (like Louver Shop), your local countertop stone and paint suppliers, etc. There is no substitute for experience!
Until next time, I hope you get a little (or a lot) closer to a home with you at its heart.
Yours,
Susan
Susan Hill is the owner and principal of Susan Hill Interior Design Group, where they believe in homes that support a family's lifestyle and stand the test of time. For 20+ years, she and her team have served Charlotte, NC, and the surrounding areas with custom home design, construction management, and complete interior furnishings.