While your windows ensure your home has light and scenery to spare, they're not without their flaws. Windows can also be one of the main sources of heating and cooling loss, but that doesn't mean you're stuck with high energy bills. Lots of window treatments are designed with energy efficiency in mind. In fact, you have your choice when it comes to styles, colors and other details.
In particular, shades and shutters will help form an insulating barrier between your home and the temperatures outdoors. While some treatments may work better than others, energy efficiency isn't the only consideration to make. Fortunately, you have help deciding which treatments to go with. A free virtual or in-home consultation can pair you with a design expert ready to turn your ideas into reality.
Insulate Your Home with Honeycomb Shades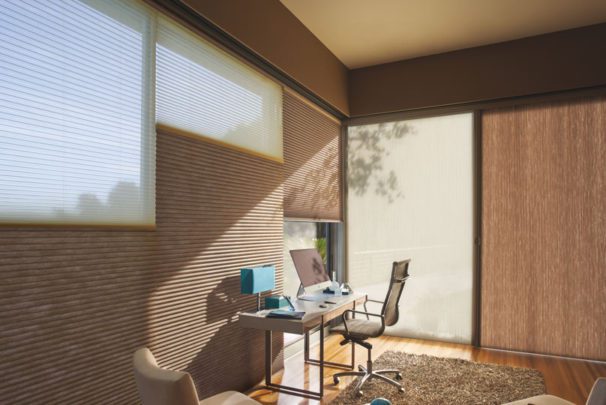 Who said saving energy meant you had to sacrifice style? Honeycomb shades, also known as cellular shades, offer practical benefits like light control and energy efficiency. They use pockets of air trapped between single, double, or triple-cell shades to block out light, heat and even sound. You can even add a motorized control system for maximum convenience.
1. Applause® Honeycomb Shades are a fan favorite because homeowners love the triple-cell construction. You can choose between vertical or horizonal orientation as well as the color and fabric type.
2. Duette® Honeycomb Shades are the most energy-efficient honeycomb shades available. Compare the 4 pleat sizes until you find the one you like and consider upgrading these shades with LightLock™ or Duolite® systems. They can offer outstanding blackout and light diffusion features.
Roman Shades Offer Clean, Simple Energy Efficiency
Roman shades are another great option for creating a layer of protection between you and the outdoors. These shades are minimalist enough to not draw unwanted attention while offering enough detail and texture to look great anyway. Roman shades come in a variety of fabrics and colors, and you can even customize the opacity, such as with Vignette Roman Shades. If you'd like to strike a balance between energy efficiency and scenery, a new set of Roman shades may be the way to go.
3. Provenance® Woven Wood Shades are ideal for someone who loves nature without all the dirt and animals that comes with it. These attractive bamboo shades can be fitted with light-filtering liners for more control over light and privacy.
4. Solera® Soft Shades could be your preferred pick if you want the look of a Roman shade and the energy efficiency of honeycomb shades. The insulating pockets can even help dampen noise from outside.
Maximize Your Energy Efficiency with Plantation Shutters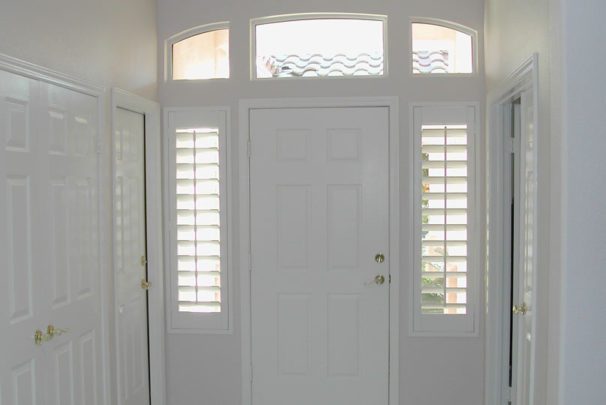 For even higher energy efficiency, a new set of custom shutters gets the job done better than other window treatments. Shutters offer a sense of grandeur and class, calling to mind upscale country manors. You can customize your shutters by color, louver size and even architectural details for window treatments that suit the space perfectly.
5. Traditional Wood Shutters are worthwhile if you want true authenticity. These interior shutters are made with durable, furniture-grade basswood and feature historically accurate 1¼ miniature louvers.
6. Classic Plantation Shutters combine the beauty of a wood shutter with the energy efficiency of polymer. These shutters are built with premium materials and can be customized.
7. LouverWood® Plantation Shutters are the ultimate choice for the energy-minded homeowner. These beautiful plantation shutters offer 3 times the insulation compared to wood shutters. For those wanting the most stylish energy-efficient shutters around, LouverWood® is the way to go.
Maximize Your Energy Savings with Custom Louver Shop Window Treatments
Energy efficiency is more important than ever, and your window treatments can be a big part of your plan to increase those monthly savings. Whether you want the softness of shades or the sturdiness of shutters, Louver Shop offers some of the best of the best. Don't forget to schedule a free consultation if you'd like help from a design expert. They have the knowledge and experience to recognize your favorite looks and match you with the right window treatments. You can schedule your consultation by giving us a call at 888-249-5655.
Compare Shutter Styles with Our Visualizer Tool
If you can't choose between different interior shutters, our Visualizer Tool can help. You can upload a photo of your home or choose from our sample rooms and compare colors, louver sizes and other details. Feel free to keep going until you've arrived at your dream shutters.