Selecting Exterior Shutters for Your Home
Exterior shutters do more than make your windows look great. They can help keep the temperature down and protect from hurricanes. Learn more about the custom varieties available from Louver Shop.
Exterior shutters do more than make your house look nice. They can help make it cooler and shield it against storms.
With a selection of styles available, how do you know which is best for your space?
Our Louver Shop design professionals can help line up your needs (and wants) with custom exterior shutters. We'll bring the showroom to your living room, take measurements and provide you with a no-obligation quote—all for free!
We offer the most sought-after exterior shutter styles customized for your windows.
Categories of Exterior Shutters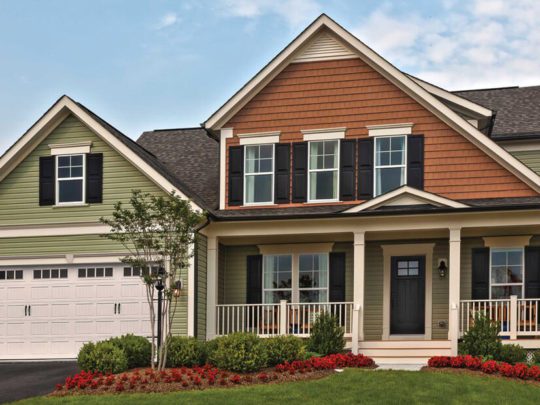 Raised Panel Shutters
Raised panel shutters were initially used in the chilly climates of the northeastern United States. Homeowners often used them to cover windows frames and glass from winter winds, ice and snow.
Now, shutters from Louver Shop are elaborate and highly customizable.*
Browse Now: Louver Shop Raised Panel Shutters
Which Architecture Styles Work Best with Raised Panel Shutters?
Colonial
Farmhouse
Georgian
Historic
Ranch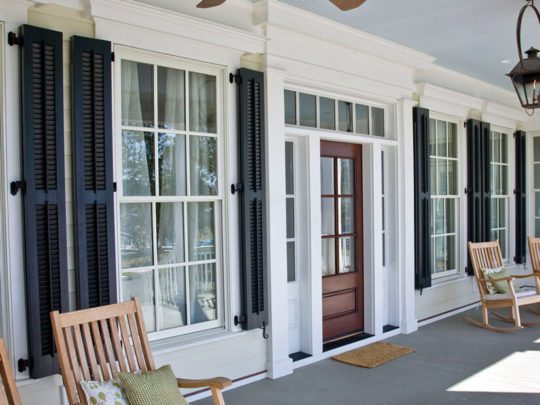 Louvered Shutters
Louvered shutters are one of the most popular options for exterior shutters.
The centuries-old design of open louvers provides a polished look.
Functional louvered shutters provide privacy and security.* They also let ambient light and airflow into homes. Decorative louvered shutters deliver unique style and a hint of color.
Browse Now: Louver Shop Louvered Shutters
Which Home Styles Work Best with Louvered Shutters?
Cape Cod
Colonial
Cottage/Bungalow
Craftsman
Farmhouse
Ranch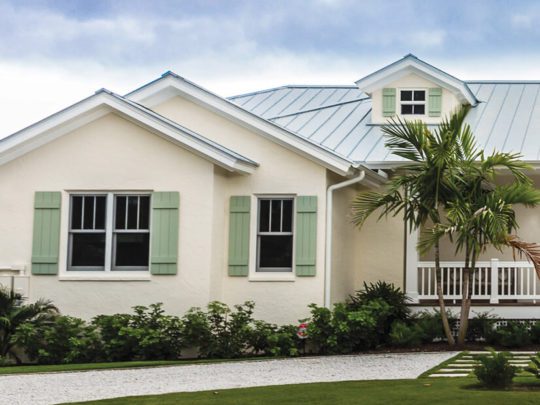 Board & Batten Shutters
Board and batten shutters have wide, vertical planks connected horizontally with a batten.
These shutters merge rustic design with bold dimensions. Their presence gives homes a flourish of old-world style and country charm.
Functional board and batten shutters close against windows to protect against wind, snow and other elements.*
Browse Now: Louver Shop Board & Batten Shutters
Which Architecture Styles Work Best with Board & Batten Shutters?
Cabins/Cottages
European/Tudor
Farmhouse
Mediterranean/Spanish
Mission
Ranch
Bahama Shutters
Bahama shutters are a top pick in the Caribbean to block intense sunlight while still allowing soft, ambient light and cooling breezes to pass through. These top-hinge shutters can be secured against your windows for storm security.*
Browse Now: Louver Shop Bahama Shutters
Which Architecture Styles Work Best with Bahama Shutters?
Coastal/Beach
Tropical
Contemporary/Modern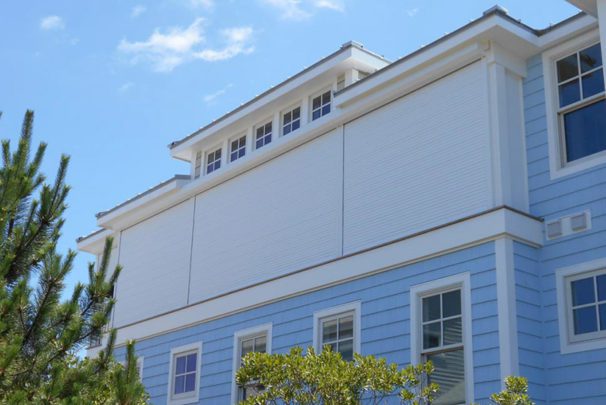 Hurricane Shutters
You don't have to give up looks for hurricane protection.
Storm louvered shutters and storm Bahama shutters look like traditional wood styles. But they're created from durable aluminum to defend your home against high winds and soaring debris.
And you can protect your home against hurricanes in minutes, not days. You only have to secure the hurricane shutters against your home when a storm is coming.
For even immediate storm protection, rolling hurricane shutters work with the touch of a button. They go into an unnoticeable housing box while not in use, so they don't distract from your home's architectural appeal.
Browse Now: Louver Shop Hurricane Shutters
Exterior Shutters Made to Last
Our shutters are created to last for years. And our lasting finishes retain their vibrant colors, keeping your shutters looking top-notch for years.
Personalize them with a choice of materials, colors, hardware and more. We manufacture our shutters here in the USA, so you'll be enjoying them in a flash. That means three weeks or sooner, many times.
Request a free consultation with Louver Shop today to start creating the custom exterior shutters of your dreams.
*Not hurricane rated.