Plantation shutters are a popular choice for interior shutters. These wood or faux wood window treatments mount on your window frame.
Plantation shutters provide privacy with light control by lifting or lowering a rod. This rod is mounted to the center or side of the louvers.
Why Are Plantation Shutters Called 'Plantation Shutters'?
The term "plantation shutter" originated in the American South, due to their sophisticated style and keeping plantation homes cool in the summer.
For similar reasons, people in the West now refer to this window treatment as "California shutters."
However, the history of this shutter dates back to 12th-century Greece, where marble louvers were mounted in stone.
Today, the term typically defines a style of shutter with:
Wider louvers—2 ½-inch, 3 ½-inch or 4 ½-inch
Traditional front-mounted tilt bar
These are the most popular type of shutters for homes across the United States.
4 Benefits to Installing Plantation Shutters
When properly constructed, these shutters:
Are sturdier than window blinds or shades.
Are easy to clean.
Don't fade from sunlight.
Don't sag over time.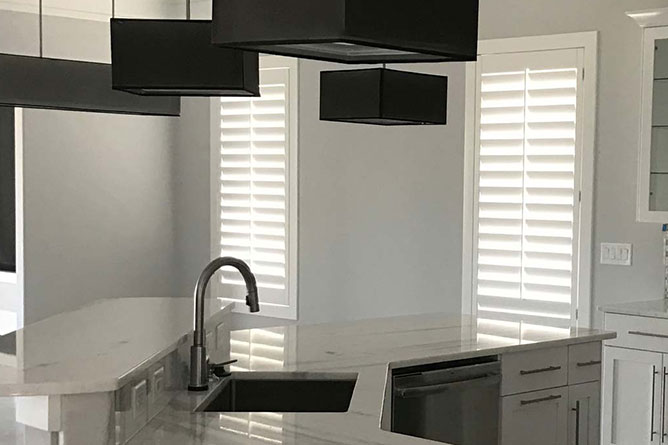 What's the Best Material for Plantation Shutters?
There are many choices available when picking out your plantation shutters, including wood, composite, polymer/faux wood or vinyl. Here are a few thoughts to consider with each option.
Wood Shutters
Wood shutters are the gold standard in shutter materials, offering the best quality and attractiveness. They're also the most expensive.
These energy-efficient shutters come in a variety of color options, with white being the most popular today.
Extreme humidity can be challenging for wood shutters, since the material naturally expands. However, this window treatment can be constructed with materials and hardware to offset those environmental conditions.
Composite Shutters
Composite shutters are often called "simulated wood." This material is most often used for exterior storm shutters, rather than interior plantation shutters.
Composite is typically a milled wood product that can include other materials, like water-resistant PVC.
This compressed product looks like real wood. But it's much heavier and more difficult to install.
Faux Wood Shutters
Faux wood shutters look like wood but insulate up to three times better.
They're made from polymer, a type of plastic that's related to PVC, which is used in most plumbing installations today.
This type of shutter is:
Durable
Strong
Retains its color
Resists water and humidity
Affordable
Faux wood plantation shutters are an ideal alternative to wood plantation shutters when maintenance and worry-free products top your priority list.
Vinyl Shutters
Vinyl shutters are the most economical plantation shutter, but also the shortest lasting.
These shutters are easy to clean and resist moisture. However, they don't provide the same appearance as a quality wood or faux wood product.
Another disadvantage is that you can't paint or stain vinyl shutters.
Quality and Installation Matters for Plantation Shutters
At Louver Shop, we only offer quality, American-made wood or faux wood products. A better quality product will be more durable and look better in your home.
You can buy plantation shutters online or through a big box store. But it's important to consider a few important points, because a cheaper product can cost you in the long run.
Shutters are produced with quality materials and hardware.
Shutters are constructed properly.
Shutters are measured and installed by a professional.
Oftentimes, your window measurements may vary throughout your home. This can be due to the foundation, construction or another reason.
As a result, installing off-the-shelf plantation shutters can cause issues like:
Louvers dropping shut or not staying in place.
Shutters not staying closed or connected to holding magnets.
Discolored shutters due to sunlight or temperature changes.
At Louver Shop, we custom-build our shutters in the United States for your home.
We ensure that every shutter component undergoes a strict quality review before sending the window treatment to your home for installation.
Once at your home, our professionally trained, local installation team will guarantee each shutter is mounted and functions properly to meet your complete satisfaction.
Want to learn more about our shutters? Schedule a free, in-home design consultation with one of our experts today. You'll get to see product samples and review all the options for your home.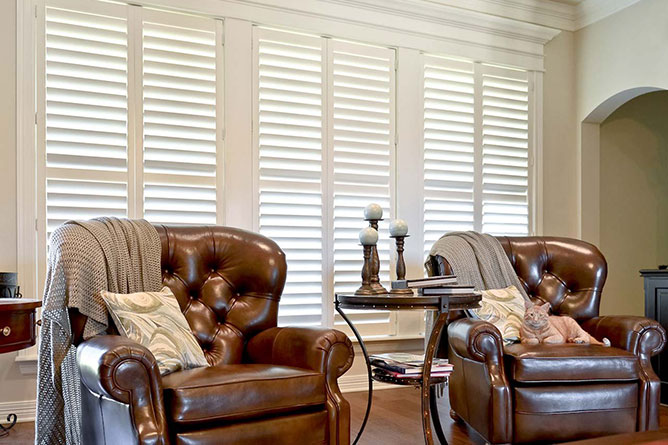 Why You Should Consider Plantation Shutters for Your Home
Like other enhancements you can make to your home, investing in plantation shutters improves your home's appearance and resale value.
According to realtor.com, plantation shutters are often favored by prospective home-buyers.
Here's why:
They're stylish.
They're energy efficient.
They're durable.
They provide superior light control and privacy.
The exact percent of value increase varies by the market and other factors. But most Realtors, appraisers and home loan lenders agree quality plantation shutters that are installed correctly have a positive impact on your home's value.
Quality shutters of any style are an investment in your home, which is likely the single most important asset you own. As such, we urge you to ask a local professional, like one from Louver Shop, when making a decision about which plantation shutters or window treatments are best for your home.