What Are Good Window Treatments for Cold Weather?
Particularly cold weather has a way of slipping into our homes, whether it's a persistent draft or a slight shiver you just can't get rid of. Because your doors and windows can be a primary source of heat loss, investing in new treatments can make a big difference when trying to push out the cold. New, custom window treatments will offer equal amounts of style and convenience.
And there are lots of styles to choose from. It may be worthwhile to see what a local design expert has to say. Consider signing up for a free virtual or in-home consultation . A local design consultant can help translate your unique sense of style into the perfect shades, shutters or blinds. In the meantime, let's take a closer look at some of the best window treatments for cold weather.
Insulated Roman Shades Keep You Nice and Warm
Just because you want window treatments capable of keeping you warm doesn't mean you have to turn your favorite blankets into curtains. There are all sorts of window treatments that can help insulate your windows while still offering beautiful custom style. Roman shades, for example, can be customized with dozens of fabrics, textures and patterns.
Solera® Soft Shades are a great choice. They feature insulated honeycomb cells that trap pockets of air between your home and the cold weather outdoors. This cellular insulation can form a strong layer of protection for the space, helping keep you nice and warm.
Honeycomb Shades Double Down on Insulating Design
Insulation is a key design element of any window treatment designed to help keep your home comfortable. If warmth is your top priority, try a beautiful honeycomb shade. You can customize the number and size of these pleated cells, fine-tuning how much insulation the honeycomb shades provide.
Duette® Honeycomb Shades are a premium option. The type of fabric is also customizable, including opacity for light-diffusing and even blackout styles. You can even add a motorized operating system for fast and convenient use! Consider investing in Duette Architella® Honeycomb Shades for the ultimate in energy-efficient window treatments.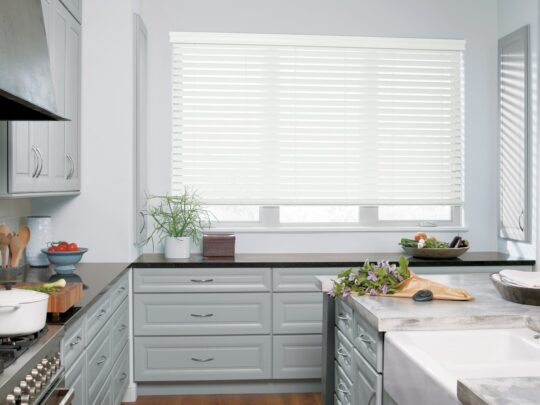 Plantation Shutters Are a Timeless, Cozy Look
Specially designed insulating pleats aren't your only choice when looking for window treatments capable of keeping out cold weather. For a more traditional look, consider a new pair of beautiful interior plantation shutters. They can provide their own powerful layer of insulation when closed.
LouverWood™ Plantation Shutters are made with dense, cellular PVC that can provide three times the insulation when compared to traditional wood shutters. These gorgeous shutters also stand up to heat, humidity, cracking and peeling for years to come. When you add LouverWood Shutters to your home, you'll be able to appreciate their beauty for years to come.
Stay Cozy All Winter Long with

Louver Shop
The next time a cold snap comes through, you don't have to be stuck shivering next to the window. With a new pair of custom window treatments from Louver Shop, you can create a layer of insulation between you and frigid winter weather to stay warm. And no matter what style you choose, you'll know they provide premium materials and years of reliable use.
For assistance choosing your design, consider asking for a free or virtual in-home consultation . A local design consultant can walk you through available fabrics and patterns as well as other customizable features like special cutout designs or operating systems. To get started, give us a call at 888-428-1415 today.
Compare Shutters with Our Visualizer Tool
With all the different options for shutters, it can be difficult to make a final choice. A great way to consider all the choices is with our comprehensive Visualizer Tool . You can upload a photo of your own home or use one of our sample photos to see what a new pair of shutters will look like. You can even customize the details of this sneak peek, including color, louver size and other details!