When you're redecorating your home, it might be tempting to purchase ready-made window treatments. They're economical, and you can buy and install them today.
However, it's also important to weigh quality and ease of installation, among other factors. To make the best decision for your home, there's a few other things you should keep in mind when purchasing new window treatments.
Working with a window treatment professional like Louver Shop who transforms homes every day has some definite perks. Here are a few of those benefits.
Professional Design Assistance
You're responsible for a long list of tasks when you're buying window treatments on your own.
This includes:
Choosing the right brand and style
Selecting the color, pattern and material
Measuring your windows
Getting the right hardware
Correctly installing the window treatments
When you work with a Louver Shop expert, we'll go over your project during a free consultation. We'll help you choose the right style, color and smart operating system before providing you with a no-pressure Louver Shop Complete Comfort Pricing™ quote. With professional measurements and standard installation included, we'll handle all the work from there.
Great Fit for Tricky Windows
Ready-made window treatments only fit a small range of sizes. If your window is wider or taller, you won't get a very good fit. And a poor fit can result in lowered energy efficiency and light leaking through gaps.
If you have a specialty window, like an arch, finding the right option can be tricky. But not when you work with Louver Shop. That's because we've never met a window we couldn't cover.
Our plantation shutters are custom-made to cover a variety of specialty shapes, including arches, sunbursts, French doors, cutouts and more. Getting a custom fit ensures energy efficiency, light-filtering capabilities and overall comfort.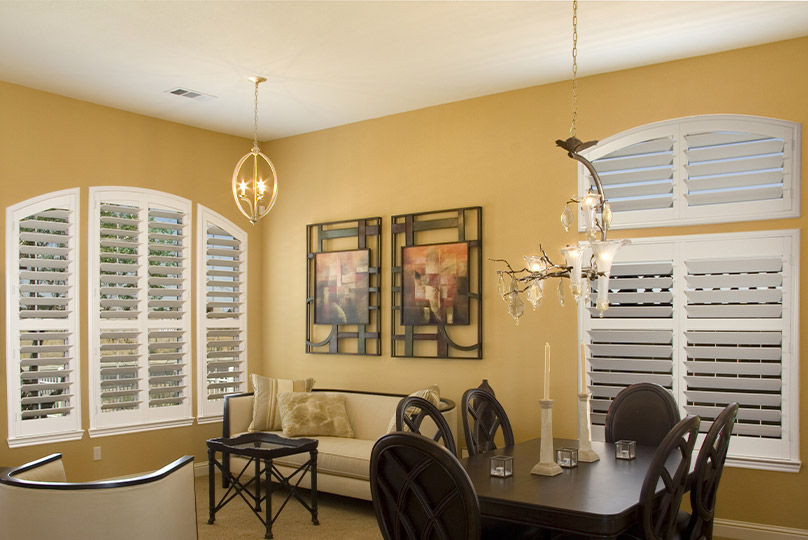 Guaranteed Quality
When you buy a ready-made window treatment, you never know what kind of quality you're going to get. This is especially true if the window treatment was made overseas.
While a premade style might initially be cheaper, it will likely need to be replaced much sooner due to discoloration over time, paint chips, warping or other issues. And that's no value in the long run.
Nobody knows shutters, blinds and shades like Louver Shop. We're unique in our business for an unbeatable combination of quality, style and attentive service—all at competitive prices.
All our custom window treatments are manufactured in the USA. Not only does a USA-made product offer better quality, it will also be finished (and installed) much more quickly.
Plus, we back our window treatments with one of the best lifetime limited warranties in the industry. When you choose Louver Shop, you'll receive window treatments that will be beautiful for years. That's our guarantee to you.
Schedule Your Free Consultation Today
At Louver Shop, we want to make the process of designing custom window treatments easy and enjoyable. We'll listen to your needs and wants as we help you design the ideal solution for your unique space.
To set up your free consultation with a friendly local professional, give us a call at 888-249-5655 or contact us online. We'll find a time that's convenient for you and work together to make your dream of a beautiful home come to life.